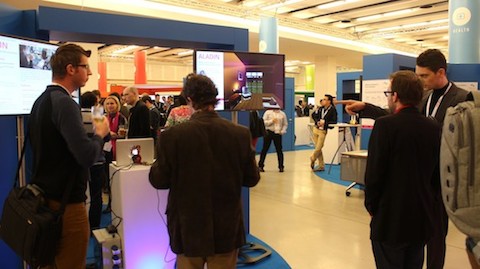 On december 5, 2013, Mobilab and CUO presented a demo at iMinds the Conference, showing off the vocal interface for domotics in both standard Dutch and West-Flemish. iMinds The Conference is a yearly conference bringing together the best and brightest in academia, policy making, business and venture capital in Belgium, with keynote speeches from thought leaders and breakout sessions on collaborative research and entrepreneurship. This year's theme was "digital innovation in Europe", and besides presentations there were over 40 demos from fields such as smart cities, media, future internet, or health.
Our demo was the first public demonstration of the ALADIN vocal interface engine in action, making use of the 3D environment used in our user tests, a playstation controller for movement and as a start/stop button for speech commands (the final version will use vocal start/stop commands), an iPad for the tablet companion app, and a KNX home automation system for driving three coloured lamps which could also be controlled via ALADIN.

KNX set-up with 3 coloured LED lamps
Because the online learning is not yet operation-ready, we trained the system beforehand, repeating each command 6 times (3 times in a noisy environment, 3 times in a quiet environment) using a close talk microphone, which was also used during the conference. During the set-up and plenary meetings at the conference, when things were relatively quiet, we achieved an almost perfect accuracy in recognition, but more surprisingly, the system managed to maintain a high accuracy (80%) during the noisy break periods. Only during the live performance of a pumkin orchestra on the demo floor did the accuracy drop below 50%.
If you missed the conference, you can find a video of our demo below:
Aladin @iMinds The Conference '13 from ALADIN on Vimeo.